If you are looking to sell your old camera you will probably publish it on classified website or on ebay or through facebook groups you would approach buyers to purchase your camera. Camera with respect to technology is changing very fact from pixels to technology. Today due to the use of cameras for making creative videos there are almost 1 in a 10 person who prefer buying camera for videography. Therefore the sales of old and used Cameras is growing day by day. If you are looking to sell your old camera you must be beware of the scams on facebook or any classified website such as OLX to avoid lost of money.
 Since there is a sizable market for that type of refurbished Camera, whenever you overuse your camera, you can simply choose to sell it. You can easily sell your used camera anywhere online, however you know how to avoid scams when selling used cameras online.
The Federal Trade Commission received over 173,000 reports of online shopping fraud from consumers in 2019; after telephone and imposter scams, it was the third most common complaint type. Because "often, these scams take money that the consumer voluntarily transfers from a bank account," said Eric Coakley, a Denver-based litigation attorney who specialises in consumer protection, it is crucial to exercise caution when buying and selling on third-party resale websites. As a result, if you've been duped, your legal options are limited.
So, in this article we will walk through the tips on how to avoid scams when selling your used camera online.
So let's dive on to it.
How to avoid scams when selling online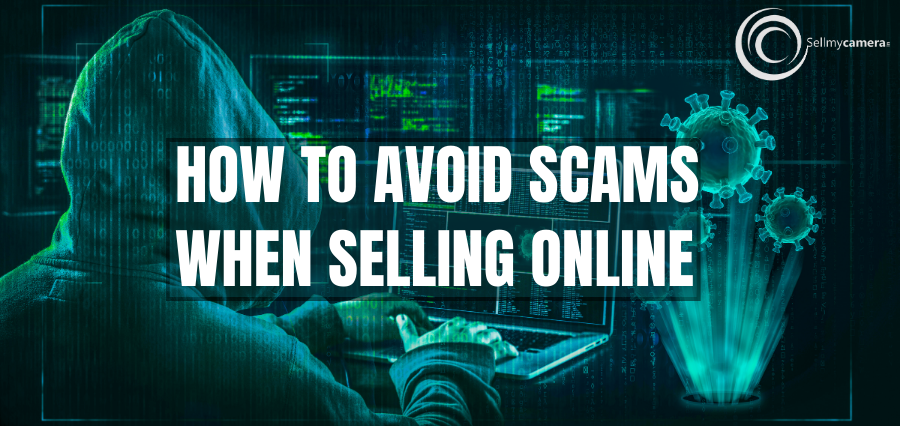 Ask for Name and office address of the Buyer
Basic rule to avoid scams when selling online used camera. Asks the buyer's name and office address details. If buyers refuse to give you're the name and office address then if can be a big risk. So, for safe side you should take the buyers details before selling anything
Should be verified the Payment
The Second rule is to avoid scams when selling online, you need to verify the payment. If you're selling your old camera or refurbished camera of cash, check the account details and verify the buyer's name. Check the buyers have website or not, check the reviews or etc. Remember, if you're selling the used camera, you have to strict by verifying the payment and the buyer.
Verify Delivery
Select the delivery option that requires a signature if you are shipping. So, the purchaser cannot claim they never received it and request a refund. When shipping expensive goods, it's also a good idea to purchase shipping insurance.
Check your transaction status
Prior to delivering or shipping equipment, always confirm that payment has been made in full. Make sure the transaction is finished and in your account, even with online platforms. If not, the seller may attempt to cancel it.
Watch out Red Flags
A big red flag is when someone offers to pay more than the item is worth. Another one is having different countries listed for the shipping and payment addresses. (In most cases, you won't be able to see the billing address, but websites like eBay will list the international payment addresses.)
Never give out your address
Never have a face-to-face meeting for a Craigslist or Facebook Marketplace deal at your house. Have your meeting in a busy, public place. Better yet, arrange to meet in a secure area like the police station's parking lot. A meeting at your house might put you in danger.
Always report the scammer
Inform the website administrators if you believe a buyer or seller is trying to take advantage of others. Some websites let you report a user directly, while others ask you to email the user's information to a specific address. If you get scammed the perfect solution is to register a case of online fraud with your local police station right away and get a copy of the FIR. Additionally you need to inform your respective bank too about the issue and wait for them to return your money from the scammer.
OLX Scam
OLX scam while selling the camera is very famous. You may put your camera photos and description about the product. Once your ad is live you may start receiving the message asking for Phone numbers. The person from the other side will tell you he is from Army and military and try to reserve the sales of your product by paying you upfront. For the same he may ask for google pay or Paytm number. Further to that he may send you few rupees amount to cross check if you received the payments. Once you feel confidence on getting the minimum payment. He will instruct you to scan the QR code and you may end up transferring the amount rather than receiving the amount. Ensure you don't give your Google Pay number or UPI id – Ask them to have a through check on the product and get the payment by cash only.
Where to sell DSLR camera
Today's technology is rapidly evolving, particularly in the field of cameras. Every user has increased their use of DSLR cameras or digital cameras because they capture moments with high quality images. We make it simple for you to sell cameras in a few simple steps. The Best Place to Sell DSLR Camera is Sell My Camera located in Mumbai – Maharashtra and service the all over regions of India such as Pune Gujarat Nashik etc; SMC offers you the highest and best price for your gadget when compared to other classified websites where you have to visit the buyer, negotiate, travel, and then only you may or may not be able to crack the deal.
Sell My Camera enables you to quickly sell your camera without negotiating or taking any risks. Whether it's a video camera, a digital camera, a DSLR, or any accessories. We buy directly from you. We also offer Google Pay, Cash, and Account Transfer at the Pickup Point so you can sell your device right away. Best Price Promise